Its time for edition #5 of
Hoo Are You Tuesday
!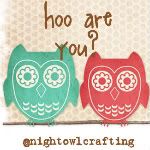 If you want to play along be sure to link up with Leslie at
Night Owl Crafting
!
1. What is your favorite restaurant?
My favorite restaurant is a local one called McQuire's. We like to eat there because the food is good, it's close , and we see people we know to chat with.
2. What kind of music do you like?
I like pretty much all kinds of music, except heavy metal and rap. I prefer lyrics that are not derogatory to humans in general. I do listen to Country most; however, in the car.
3. What do you watch on TV?
I watch a variety of shows on TV, but I guess my favorites are the CSI's and shows of that nature. We don't have cable or satelite, but there are enough channels that we get over the air, that I still have to record shows to the DVR! I particularly record shows on the CREATE channel. I love their how to shows.
4. Do you enjoy reading and if so what kind of
books do you read?
I do like to read, but seldom make time for it. The kinds of books I tend to gravitate toward are either romantic fiction or who done it. I prefer female authors, because, frankly the sex is better and the plots more everyday life. Some of my favorite authors are Sue Grafton, Sandra Brown, and Susan Wittag Albert.
5. What is your favorite color?
My favorite color appears to be purple. I say this because when I was looking at the flowers I planted out by the deck, most of them were shades of purple.
and...
This is how our gazebo has looked for years. The table was never easy to clean with the deck stain we originally put on it, so I put a tarp over it, which was ok.... for awhile.
I always felt it needed dressing up, so this is what I did:
I painted the table with brown exterior latex paint and then painted on the flower and stenciled edges with acrylic paint. I sealed the whole top with concrete sealer. It has come through one winter just fine, so I think it will be alright.
I made some curtain rods to fit out of 3/8" steel rod and I painted telephone insulators [the kind that attaches to the house] to use as brackets.
The "curtains" are shower curtains, which I got on clearance for $5.00 a set. I used some black hair bands ['cause Walmart didn't have black elastic] which I sewed into the tiebacks. I painted fence insulators and attached them to the outside of the posts to hook the tiebacks to.
The final touch when I get around to it is to make some matching cushions for the benches.